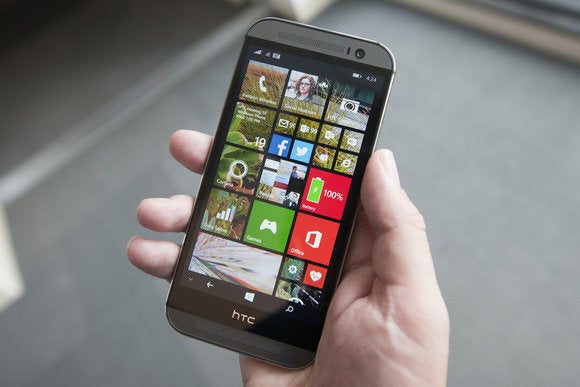 Call me weird, a member of the forlorn 0.1%, but I like the Windows phone interface. It's clean, attractive and easy to use. I like that Windows 10 Continuum is ambitious enough to provide a seamless experience across my desktop, tablet and phone. I'm annoyed that several of the apps I want, like my Digital New Yorker or even Facebook messenger were never available and to add insult to injury, that MS is not supporting Windows Phone 8 with updates. Yet I hung on, a victim of my own loyalty and inertia.
That all changed when the HTC 1's LiON battery fried and necessitated a trip to Verizon's "My Devices" Upgrade site.
So here I am cursor poised on a grayed out radio button,  spittin' mad because one, the one Windows phone that Verizon has ISN'T EVEN AVAILABLE (in stores or on their website) and two, that it's a hardware spec step down from the phone I've used for 4 years.  When it comes to tech upgrades I have an ironclad rule. Don't look back. Don't settle for less. That said, is something I would have settled for the tepid Lumia 650, but it isn't even available and Verizon's CSRs won't tell you when it will be. That log broke this camel's back. I've been more than patient. So patient. I've been reading articles like this for over two years and while I understood the logic of them and I saw the evidence of Microsoft's declining interest in the mobile environment, I was frozen in place by a mixture loyalty, inertia and orneriness.
Meet the new phone–not the same as the old phone
Time to embrace the Android wave with last year's top device. No. There's no ##ing way I'm paying almost $900 for this year's model (the S8). Leading edge, not bleeding edge, that's my motto. But I will revel in the Google Play store that has every app under the sun that the Windows Store doesn't carry because developers won't write for an OS, however clean and usable, when it's only 0.1 percent of the mobile market. If and when Microsoft reverses its non-engagement in the mobile space, maybe I'll reconsider. But I suspect that by the time when or if that ever happens, I'll be an Androidster with Office apps living happily on my home screen.
My phone is my business lifeline. But since yesterday, I'm swimming without a life preserver until tomorrow. If you need to contact me today, use SMS text, email or my landline. Or send up smoke signals. I'll respond by lighting a funeral pyre for Windows 8, the mobile platform that couldn't or just plain wouldn't.
Anybody else have this phone? Like it? Hate it? Do you feel that Android is a better OS than iOS?